About Us | The Thoreau Society Shop at Walden Pond
In the interest of public safety, The Shop at Walden Pond has closed
and will remain so until at least April 7, 2020.
Orders may still be placed online at www.shopatwaldenpond.org.
They will most likely be processed each Friday.
We will announce our re-opening when we have more information.
Please stay safe.

We need the tonic of wildness. … We can never have enough of nature.
~ Henry David Thoreau, Walden
The Shop is usually open year-round and operates under seasonal park hours.
(Closed on Easter Sunday, Thanksgiving Day, Christmas Day, and during significant snowfall.)

The Thoreau Society Shop at Walden Pond
915 Walden Street
Concord, MA 01742

Welcoming All Honest Pilgrims since 1995

Questions? Contact us by phone or email:
978-287-5477 | info@shopatwaldenpond.org


The Thoreau Society Shop at Walden Pond first opened for business in May 1995. It was initially positioned in the Walden Pond State Reservation office building as a collaborative effort between the Society and the Massachusetts Department of Environmental Management.


Previously, Thoreau fans and Concord pilgrims could visit the Thoreau Lyceum at 156 Belknap Street. The Lyceum had been a popular meeting place for Thoreauvians since it opened in 1966. Over the years, its staff answered questions, produced publications, and sold Thoreau-related merchandise.




After several years of meetings and discussions, the Thoreau Foundation (and its Lyceum) and the Thoreau Society officially merged in 1983. Members of the co-joined organization (which retained the Thoreau Society name) began receiving both the Thoreau Society Bulletin and the Concord Saunterer. The March 1984 issue (vol. 17 #1) was the first to include both names as the issuing entities (The Thoreau Society – The Thoreau Lyceum). When the Lyceum house was sold in December 1994, some kind of new gathering place was needed. The Shop at Walden Pond was created to carry on the Lyceum spirit, to promote the Society, to educate visitors about Henry David Thoreau, and to help promote the park as well.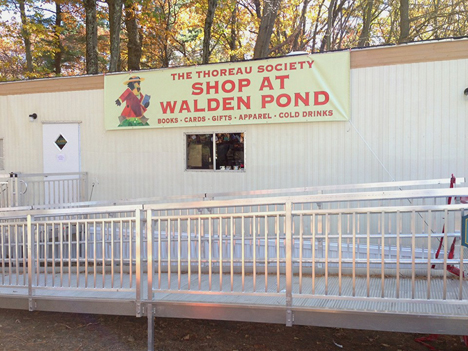 In 2015-2016, the old blue building was torn down in order to erect a brand-new Walden Pond Visitor Center. For a year, the Shop operated out of a trailer on the property. In October 2016, we were able to move into the new Shop space, right next to the park's exhibit and movie viewing rooms. Walden Pond State Reservation itself is open year-round, generally from dawn to dusk. The Shop is open year-round with daily hours that vary by season.


Shop staff members are knowledgeable about Henry David Thoreau, his contemporaries, the town of Concord, and the local flora and fauna. Some of them have written books in their areas of expertise. They are happy to converse with visitors and travelers on all sorts of subjects. The Shop carries primarily products related to Henry D. Thoreau, to Walden Pond, to Concord and its historical authors, to nature and the environment, to writing and creativity, and to related subjects. We have books, apparel, artwork, cards, jewelry, souvenirs, gifts, and even drinks and snacks. Many of the books on our shelves have been signed by the authors. Many of our gift items and photographs come from local artists and residents.


The Thoreau Society is a non-profit organization. Our mission is to keep Henry David Thoreau's writings and ideas alive, challenging all to live a deliberate, considered life. Every Shop purchase helps to further the mission of the Society. You can learn more about The Thoreau Society at www.thoreausociety.org.


I had more cheering visitors ... Children come a-berrying, railroad men taking a Sunday morning walk in clean shirts, fishermen and hunters, poets and philosophers; in short, all honest pilgrims, who came out to the woods for freedom's sake, and really left the village behind …
(Henry David Thoreau, "Visitors," Walden)